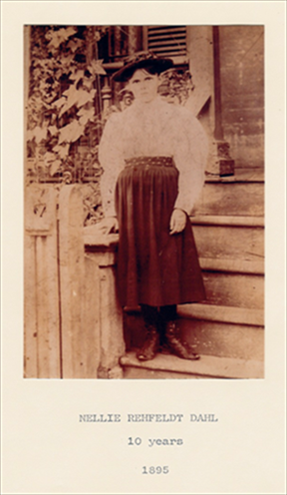 Born: November 3rd, 1885
Passed: March 25th, 1955
Nellie Rehfeldt was born on the 3rd of November, 1885, on the election day! Election day in those times was a very loud, boisterous, exciting day, full of loud talk, campaigning and drinking. It was a day full of hoopla! Nellie had a very fun loving, easy going nature. Nellie always had a smile on her face and a kind word on her lips.
Nellie used to accompany her father many times when he went to Grosse Isle to paint houses, and she would play with the neighborhood kids while her father painted houses. But Nellie would often lend him a helping hand by cleaning brushes, handing him equipment, trim brushes, etc. Nellie and her father would return home hand in hand in the evening, happy and tired from their day's labors. Nellie adored her father Charles, and she so enjoyed these quiet moments in which she had her father all to herself. Nellie was probably Charles' favorite child, and he was very proud of his little tomboy.
Nellie spoke very fondly of her father Charles all the days of her life, and she often said that she was sure that she was her father's favorite. One of Nellie's favorite stories was the one in which her father was coming home from work one day and he spotted his daughter Nellie in a field beating up on the neighborhood bully, a boy about a year older than Nellie. When Charles got closer, he now observed that Nellie was in the process of beating the bully over the head with a pump handle! (From an outside water well). Charles heartily encouraged his little Nellie with the words, "That's a girl! That's my lolly!" Nellie was a real tomboy in those days and Charles loved every dirty smudge on her adorable little body.
Nellie loved to go to the dance halls every Sunday afternoon and dance all day. She loved to dance and her dance card was always full because she was such an attractive young girl. Every Sunday night Nellie swore she would not go to the dance hall again because her legs hurt so badly. But the next Sunday Nellie would always be back out on the dance floor.
In 1906 Nellie was married to William Frederick Dahl, a young man she had been dating for 5 years. Nellie and Bill had met at age 15 while ballroom dancing, a very popular Sunday afternoon pastime just before the turn of the century. Nellie was married to Bill in Sacred Heart Church, a church that Bill had attended all of his life, which was located at 1000 Eliot St. on the near east side of Detroit, presently located near Mack and the I-75 freeway. (This church can be seen while driving by on I-75). The reception afterwards was held at her sister, Tillie Rehfeldt Doench's house at 686 Baker St. on the near west side of Detroit, a block from Clark Park.
Nellie and Bill left Tillie Rehfeldt Doench's home the next day and traveled by train to Niagara Falls for their honeymoon. (Tillie's house was only a few short blocks from the train station on the near west side of Detroit). After their honeymoon in Niagara Falls they returned to Detroit and lived with Nellie's mother Pauline Rehfeldt for a short time, then moved into a place of their own, returning briefly to stay with Pauline Rehfeldt in 1909 and than again in 1910.
Nellie and Bill Dahl subsequently had 6 children:
Mildred Dahl Stocker was born on the 3rd day of May, 1908.

Dorothy, was born on the 27th of December, 1909.

Elenore Dahl McKinnin was born on the 12th of February, 1912.

Marie Dahl Bender, was born on the 13th of November, 1913

William Frederick Dahl Jr. was born on the 17th of February, 1915.

Harold Joseph Dahl, born on the 21st of August, 1917.
Nellie and Bill's first child Mildred Dahl Stocker was born at 693 Hastings St. in Detroit on the 3rd day of May, 1908. She was a pretty blue eyed, blonde haired child, and full of spirit, a trait that she maintained all of her life. Mildred Dahl Stocker married George Stocker on the 5th of June, 1979(?) in a large wedding ceremony, then living with his parents for about the next 5 years before striking out on their own. Mildred had 4 children, who of whom died in infancy, and a third, Earl George Stocker who died at the age of 6 of acute appendicitis, an affliction common in the Dahl side of the family. A fourth child, Doris survived into adulthood.
Nellie and Bill's second daughter, Dorothy, was born in Pauline Rehfeldt's house on the twenty-seventh of December, 1909 at 236 Canfield, Detroit. Dorothy was another pretty blueeyed, blonde daughter. Little Dorothy's life was short lived however when on the 12th of November, 1917 little Dorothy Dahl was laid to rest in the baby land section of Mt. Olivet cemetery in Detroit. She was tragically struck by a car when crossing a busy street without looking.
Nellie's fourth child, Marie Dahl Bender, was born on the 13th of November, 1913 near what is now Van Dyke and the I-94 freeway. When Marie was born Nellie asked if it was a boy or a girl. When the doctor replied that it was a girl, Nellie said, "Another girl!?!?, take her away!!" But Marie got even with them! Marie was so small when she was born that the doctor feared for her health, so he wrapped her up, placed her in a cigar box and put her in the oven to warm her up! The ten days later Marie caught the whooping cough and Bill, her father, figured that it was the end of her for sure. Bill used to put his finger down her throat to pull up the mucus to keep her from choking to death. The parents had her baptized only 10 days after she was born as they were sure she wouldn't make it. And while they were baptizing Marie, they thought of something else that they had neglected last year, their daughter Elenore had not yet been baptized. So Marie went to the altar in the arms of her godmother Anna Kraft while her sister Elenore walked up the isle.
Nellie and Bill's fifth child was born 1 ½ years later, their boy at last! They named their first son William Frederick Dahl Jr. They spoiled their little Willie to death! William always seemed to be Nellie's favorite child as she had waited so long for her first boy, but Bill, on the other hand seemed to prefer his little "Weewee" (Marie), maybe because he almost lost her at birth.
Bill and Nellie's sixth and last child was Harold Joseph Dahl, born on the 21st of August, 1917. Harold, no doubt had a rough first year of life as his mother was dreadfully sick before and after he was born. When Nellie was about 3 months pregnant with Harold she suddenly developed a paralysis that involved her entire body. This paralysis lasted until Shorty (Harold) was nearly a year old.
Nellie Rehfeldt Dahl Links:
If you like what you see, please sign the Guestbook and/or send us an email.